Family bike adventure in Western Australia
When it all begun in 2013 the Munda Biddi Trail with its 1000+ km between Mundaring and Albany was the world longest off road bike trail.
Around Christmas time in 2012 I was in Perth with my son Jack and news about the upcoming trail were starting to go around so we started to think about riding the trail end to end. We finally completed the adventure in November 2019 as our very first self-sufficient mountain bike experience that also ended up being a very special trip of a very special family.
Munda Biddi is a native word that means "path through the forest" in the local Noongar language and here is our little report divided in 14 legs of our beautiful big experience.
---
4/11 – prologue
Perth, Maylands – Mundaring Weir
km 44
More that a proper first leg this has been a way for us to reach Mundaring and the northern terminus of the trail starting from Perth city.
It has been also a first testing ground for our bike set up and camping gears. We camped at Perth Hills Visitor Center which is just after the first seven kilometers of the Munda Biddi trail. Cristina is riding a 26" carbon hardtail with total weight of around 30kg while Jack rides a 27.5" alloy hardtail with a total weight of around 40km. We both have a bike touring set up and we carry around 2/3 days of food supply.
---
5/11 – stage 1
Mundaring Weir – Wungong Hut
km 70
Munda Biddi brigs riders deeply in contact with the classic western australian bush environment with its eucalyptus forsets and daily wildlife encounters with kangaroos and emus. Since the beginning we thorougly appreciated the continuity of this full immersion in nature as the road parts of the trail are just a small minority. The trail is designed with a great variety of single track, fire roads, unsealed roads and, sporadically, tarmac.
---
6/11 – stage 2
Wungong Hut – Dwellingup
km 82
The trail, which regularly passes through small towns, is easy to adjust depending on load and skill set so the length of each leg is not overwhelming. When towns are too distant from each other there are huts with free camping site, bush toilet and large rain water tanks for the riders.
To plan out our tour we have used Trailmaps which helps to break down the length in segments and also indicate accurate elevations.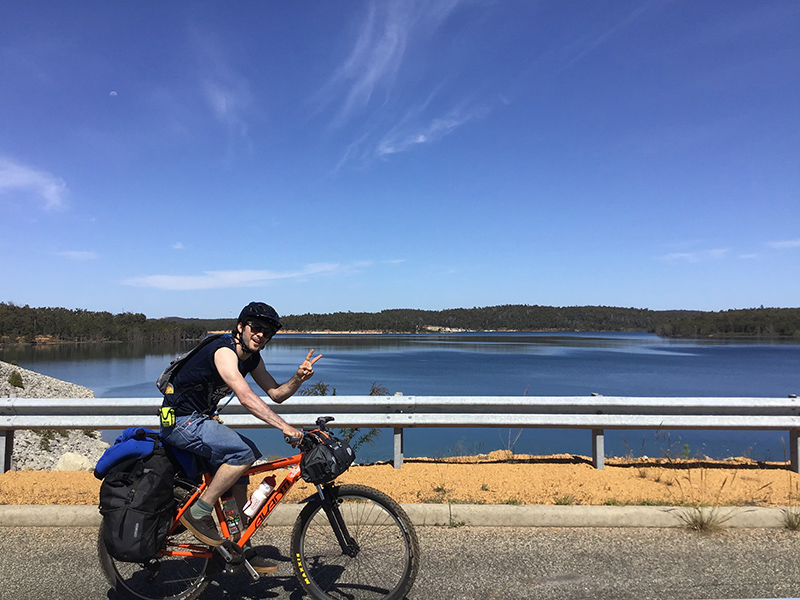 ---
7/11 – stage 3
Dwellingup – Lake Brockman
km 65
The first part of the trail when going north to south is also known as the baptism of fire of the Munda Biddi due to pretty serious elevations.
On our first three legs we had average of 700m elevation on a daily basis which, once you are fully loaded with all the gears, is definitely not to be underestimated. Once we have reached the southern end of the trail we have accumulated 9700m elevation which means that, even if broken down in several short legs, Munda Biddi is an experience for many but not for all.
---
8/11 – stage 4
Lake Brockman – Collie
km 89
We are settling and starting to find the right daily pace. Wake up is very early gifted by a morning bird gig which reaches its apex with sunrise ( audio).
We are riding mostly before midday also to avoid the heat while the regular shade of the tall trees is shielding us from the burning sun. The trail is open throughout the year but spring and autumn are the best season even because of the lower wildfire risk.
---
9/11 – stage 5
Collie – Boyanup
km 75
Munda Biddi is meticulously signaled and, at everyone of the hundreds changes of direction, there is a discreet but visible yellow stake that points towards the right way. Being this the only information in place the 9 official maps are practically indispensable. Every map is extremely detailed and shows the route, huts and water tanks location, available services and amenities and also any other relevant information that could come handy to the rides. Said so, having a GPX track is ideal to confirm and triple check location and direction.
---
10/11 – stage 6
Boyanup – Nannup
km 72
The middle part of trail has been for us the most spectacular. It's here that the Eucalyptus forest shows its majestic vastness and beauty. We have clearly perceived a sense of greatness being in the middle of nowhere in an environment that, even with all its severity, shown itself as more "welcoming"  on a day by day basis. Probably the merit for this laid also in the continuous colourful presence of wildflower that, while going south increases and add new energies to our strokes.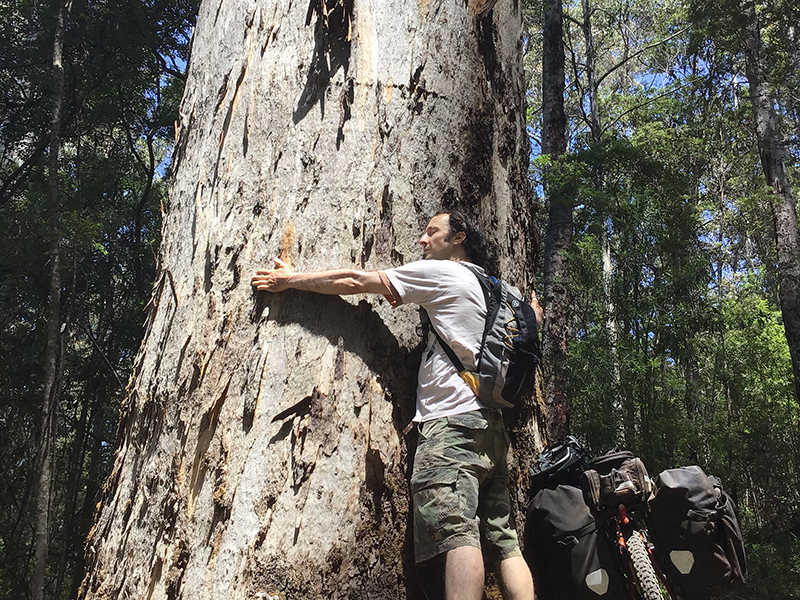 ---
11/11 – stage 7
Nannup – Manjimup
km 83
Nestled in the forests like a jewel, we meet today the small village of Donnelly River.
Its vintage-style store is surrounded by emu, kangaroos and parrots, who happily stroll between the terrace and the garden.
A few little houses scattered among the trees, no TV, telephone, connection, rhythms and spaces so human that they are now as precious as gold. Like the delicious cakes from the Store, fresh every day.
---
12/11 – stage 8
Manjimup – Pemberton
km 84
With the mechanical problems we were lucky. Only a chain jump caused us a headache anxiogenic headache, solved in half an hour; it's good to start with a well-stocked mechanical equipment and some "strategic" parts such as the derailleur dropout and reserve spokes.
It is also very useful to follow the Facebook "Munda Biddi Trail". Here you'll find traveler's tips, equipment lists, real-time information on route conditions.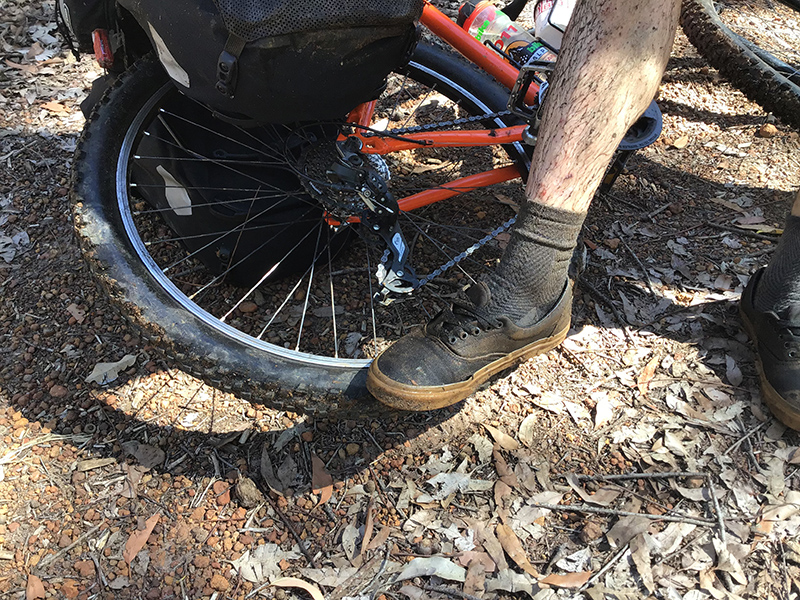 ---
13/11 – stage 9
Pemberton – Northcliffe
km 43
Here is a short stage, planned for the recovery of energy. Today we arrived at our destination even in time for lunch at the pub in the microscopic village of Northcliffe!
In the morning we had a fun flow trail with humps and hairpin bends in Gloucester Park. Here you will also find the Gloucester Tree, a giant Karri that Jack climbed thanks to the rungs that surround its trunk.
From a height of 58m, the endless green expanse is a spectacle.
---
14/11 – stage 10
Northcliffe – Fernhook Falls
km 70
After a more "civilized" part of the Trail, we are once again entering a very rugged and wild territory. During the 50 km to Yrra Karta Hut, where we stop for lunch, the trail opens into clearings where it really seems to be at the dawn of civilization.
During the route we met only 16 bikers in total and not all of them on the track for the complete Munda Biddi, but only for some segments. The encounters are always very welcome and among wide smiles you will gladly lose a few minutes in chatting and exchanging information.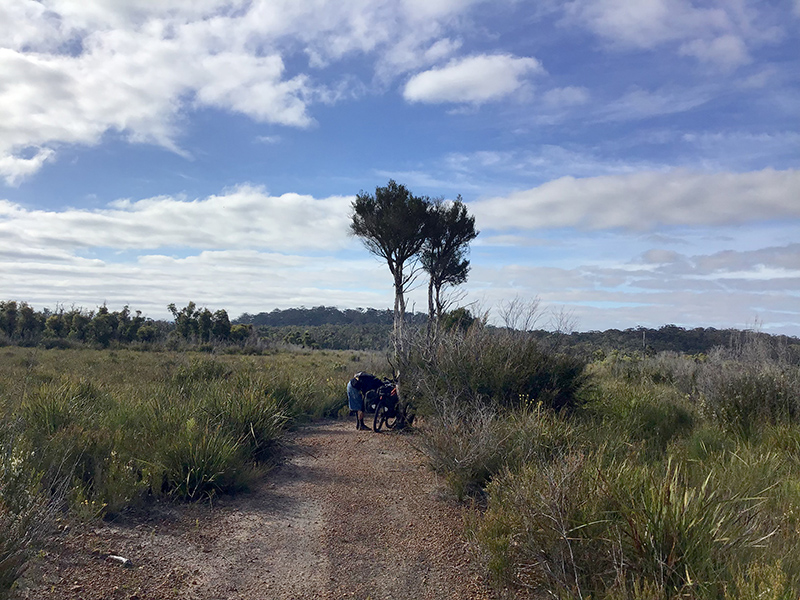 ---
15/11 – stage 11
Fernhook Falls – Walpole
km 62
The destination of the day is… the ocean! Finally we see the sea from 411m of Mount Frankland, which we reach with an extra route (marked). The surplus of altimetry gives a panoramic view of 31000 hectares of forests.
We reach the coast with a descent where some sandy stretches make us swear…
At the beautiful seaside campsite of Walpole we meet up with our bike friends Chris and Christine, with whom we share the Trail at times since Collie.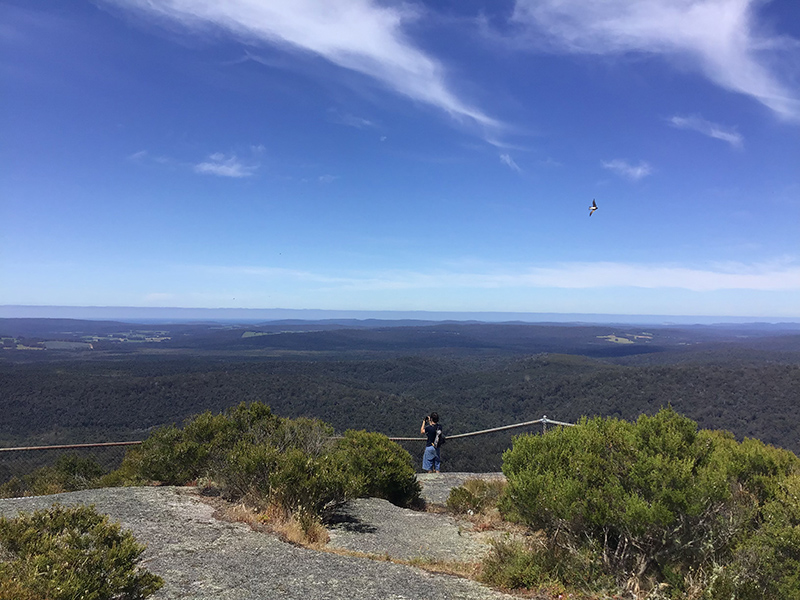 ---
16/11 – stage 12
Walpole – Booner Mundak Hut
km 55
It seemed to be done by now and instead… Munda Biddi doesn't remain on the coast, but leaves again towards the hills, to meet one of the most famous tourist spots of Western Australia., the Tree Top Walk: a walkway suspended over the treetops that shows the forest from an unusual point of view.
After the aerial walk, we ride our bikes again over the hilly ridge to reach the Hut of our last tented camp in the bush. Here we will be rewarded by a memorable sunset.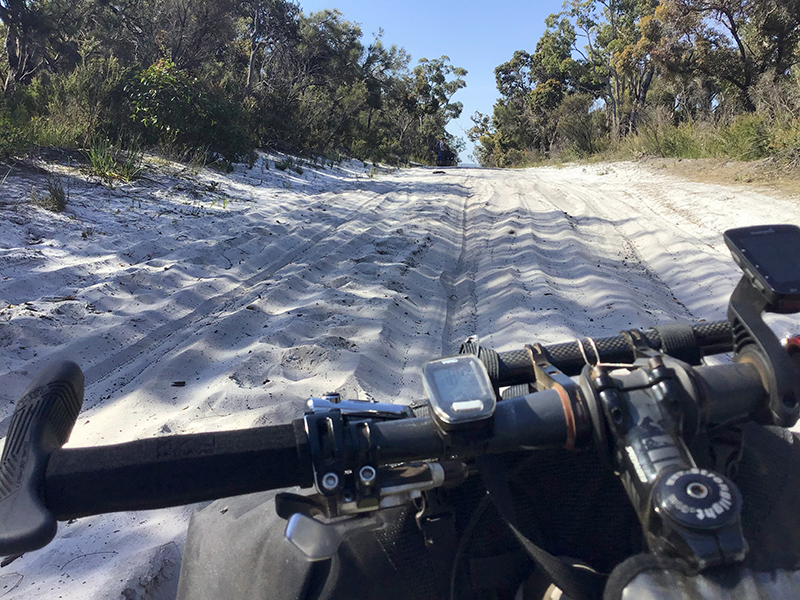 ---
17/11 – stage 13
Booner Mundak Hut – Denmark
km 84
It's a long stop to take a day off in Denmark, one of the most characteristic and iconic villages in the Great Southern, with its countryside ordered by the highest quality crops and wineries.
The descent ends at the iconic beaches close to the ocean: Green Pools, Elephant Cove and Light Beach. Memorable is the trail that unites them, all across the ocean, between glimpses of the sheer cliffs and the doodles in the sea dunes covered with greenery.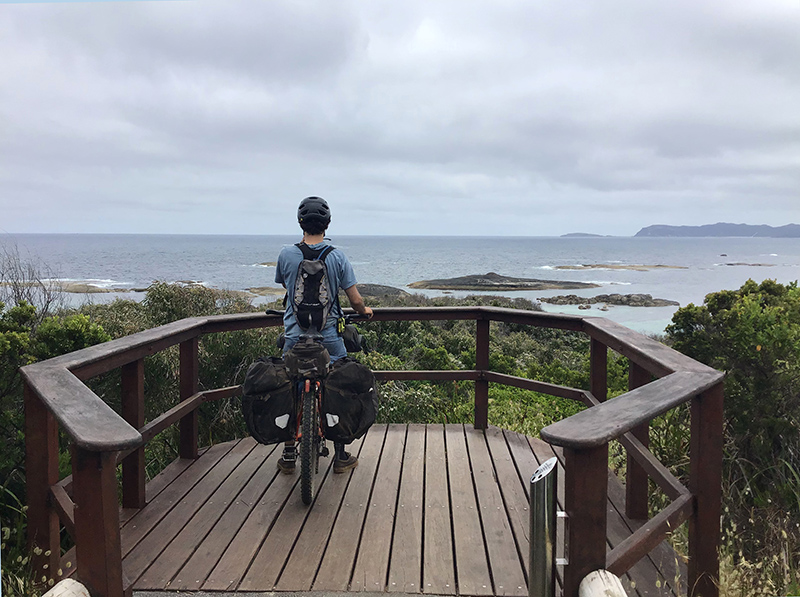 ---
18/11 – day off
Denmark
---
19/11 – stage 14
Denmark – Albany
km 74
Here finally is the last stage of our adventurous family trip. Albany was reached as our imagination had dared to hope, with joy and generous smiles, also because of the relative ease of this final stage.
We ride it in the company of Christine who closes her Munda Biddi with us, multiplying the beers that seal the feast at the Albany Southern Terminus.
---
Just enough time to get back to Perth and here we are at the offices of the Munda Biddi Trail Foundation, to express our gratitude to the creators, custodians and developers of this fantastic itinerary: precisely signposted route, perfectly maintained huts, info and itinerary changes due to the scheduled fires always updated in real time.
An accurate work carried out also thanks to the perfectly coordinated network of volunteers.
"Thank you so much!", Munda Biddi